CONGRATULATIONS TO THE MRS. & MR. BOLLYWOOD 2014 WINNERS!
Mrs. Bollywood 2014 WINNER - Nina Desai, 1st Runner's up - Pavana Gadde, 2nd Runner's up - Kiran Gulati.
Special Awards: Beautiful Smile- Shaneel Mitha, Beautiful Skin- Heena Ali, Perfect 10 - Reshu Bagga
People Choice/FB Award - Ruchi Singh & Mrs Talented - Dimpy Kaur Virk
Mr. Bollywood 2014 WINNER – Waqas Syed, 1st Runner's up – Varun Gupta, 2nd Runner's up – Parminder Singh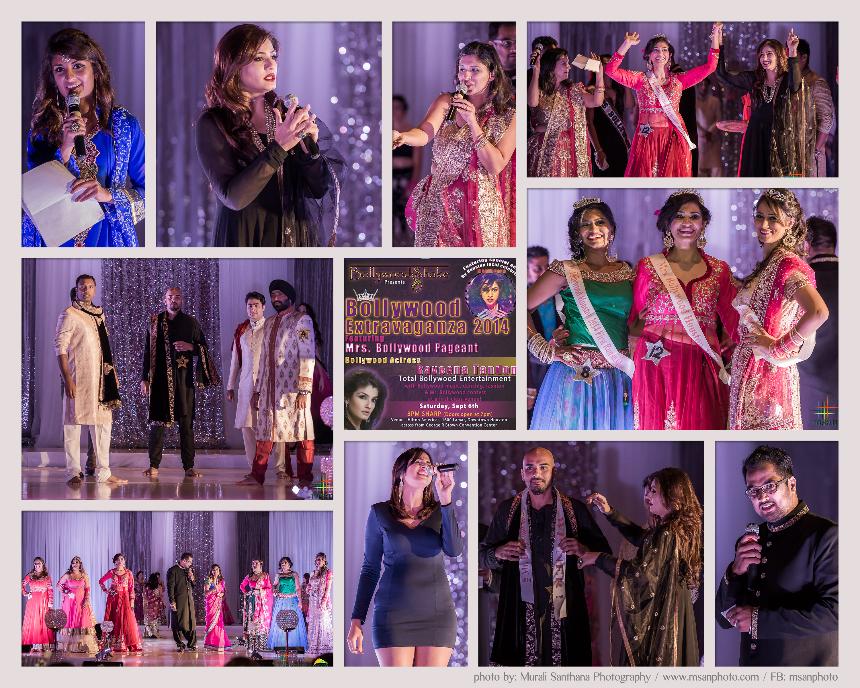 RUCHIKA DIAS & BOLLYWOOD SHAKE PRESENT:
Bollywood extravaganza 2014
Featuring Mrs. Bollywood Pageant!!


DATE/TIME: Saturday, Sept 6th @ 8pm
VENUE: Hilton Americas, Downtown Houston, 1600 Lamar



Join the glamour, fun and excitement of the Bollywood Extravaganza 2014 featuring the Mrs. Bollywood pageant on September 6th at the exquisite Hilton American in downtown Houston!

Esteemed panel of judges will include Bollywood actress, Raveena Tandon, Houston's superstar Mauli Dave and other prominent personalities.

- Mrs. Bollywood pageant
- Bollywood Actress RAVEENA TANDON judge
- LIVE Music Performance by Sa Re Ga Ma finalist and local Houston star MAULI DAVE
- Dance Performances by Bollywood Shake
- Mr. Bollywood contest
- Fashion Show

There will be plenty of entertainment for the whole family!
bollywood celebrities at the MRs. bollywood 2014pageant
| | |
| --- | --- |
| | |
BOLLYWOOD EXTRAVAGANZA 2014 - BUY TICKETS
Ticket prices are as follows $25, $35,$49, $75, $99, $149 VIP, $249 VVIP Meet/Greet
You can buy your tickets HERE and pick your seats for your convenience.
Or buy tickets on Sulekha and we will assign your seats and mail you your ticket (if bought 10 days or more in advance). For tickets bought less than 10 days before the event on Sulekha, your tickets will be available at the venue with your names.
Tickets are also available at the Bollywood Shake studio. Or call 281-310-0742.



WHO WILL BE MRS. BOLLYWOOD?

This contest will provide the opportunity for married ladies to showcase their personality, display their talent and represent Desi Culture - Bollywood style!


Do you have the poise, grace, elegance and personality to be the first-ever Mrs. Bollywood Houston?

Mrs. Bollywood Houston will be chosen by the judges on the basis on personality, articulation, talent, confidence, representation of South Asian culture and Bollywood style!

For more details, CLICK HERE.



MR. BOLLYWOOD

Are you a tall, dark & handsome guy with an awesome personality?

Have you considered an alternate career in the movies?

Are you talented like the Bollywood Khans in singing, dancing, romance, action or dialog baazi?

Then you are who we're looking for to compete for the coveted title of the first-ever MR. BOLLYWOOD HOUSTON!

For more details, CLICK HERE
CONGRATULATIONS TO THE WINNERS OF MISS BOLLYWOOD 2014!
| | |
| --- | --- |
| Rafiah Khan, MISS BOLLYWOOD HOUSTON 2014 | MISS BOLLYWOOD AUSTIN 2014 |
We are now taking applications for next year's pageant! Please email events@bollywoodshake.com
if you're between the ages of 15 to 25 and are interested in participating next year!!
Miss Bollywood Houston2015 Participants, you can now REGISTER HERE!