MRS. BOLLYWOOD HOUSTON 2014
SATURDAY, SEPTEMBER 6th, 2014 at Hilton americas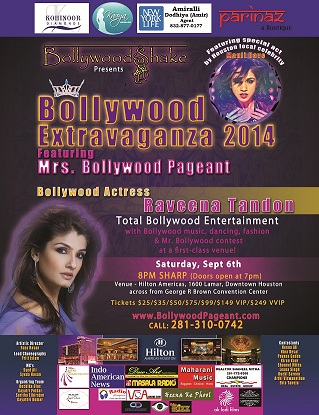 WHO WILL WIN THE CROWN?
This contest will provide the opportunity for married ladies to showcase their personality, display their talent and represent Desi Culture - Bollywood style!
Mrs. Bollywood Houston will be chosen by the judges on the basis on personality, articulation, talent, confidence, representation of South Asian culture and Bollywood style!
Winner will get cash and prizes worth $1000! Also, 3 top winners and family (up to 4) get a picture with the Bollywood celebrity!
Contestant Registration
All Contestants are required to Register HERE
Initial Registration Fee: $15/participant (Participants not selected will get 1 ticket to the event)
Final Registration Fee (for final contestants selected after the auditions): $199 per contestant
Early Registration Fee (Extended to July 12th): $99 per contestant
Final registration Fee includes t-shirt, final round outfit rental and 1 VIP Meet/Greet & Picturewith Celebrity ($250 Value)
Registration Deadline: July 20, 2014
See our Contest Rules page for rules, regulations and contest rounds.
See our Mrs. Bollywood Houston Auditions page for details on audition dates.
Payment information is due at the time of registration, but payment will only be taken for selected contestants. Also, please send us a picture of yourself along with a short bio to [email protected].
For questions call 281-944-8050 or 281-310-0742.